Halloween is upon us. I have a love hate relationship with Halloween. I always have grand expectations for a really creative costume (that is the love part) and it never ever works out…ever (that is the hate part).
Now that I have a kid the pressure is on. I am just waiting on pins and needles to see all of the creative, hand crafted costumes that are going to flood my Facebook page but I'm taking the fun out of it for you…Camryn will be a headless dog. The dog costume has a head but she threatened to cut me if I attempt to put the puppy head on her one more time. Alas, she will be a puppy with a puppy head hanging off the back. She has no idea how lucky she is to be something so normal.
Here we are in recovery mode after I attempted to put the puppy head on for one freaking picture. Don't we look great posing by the trash cans?
To keep with the Halloween spirit I'm going to countdown my three favorite worst Halloween memories. Let's start with the only one I don't have a picture of and after you read this you will understand why.
My brother is 8 years older than me and my sister is 6 years older. This is important information because it explains where my parents heads where as I was growing up. They had older kid issues to deal with and I think they were sort of over the whole making scrapbooks, doing little kid stuff when their "best surprise ever" came onto the scene.
This is a picture of me and my sister around the time of my first worst Halloween. That is actually our hair and was not specifically for Halloween. I really appreciate that I have a solid foot of bangs and sideburns carved out of my mullet. Her hair was actually that tall and I even cropped some of her bangs out of the picture. So, as you are reading the next part, make sure to picture this mullet sporting little girl....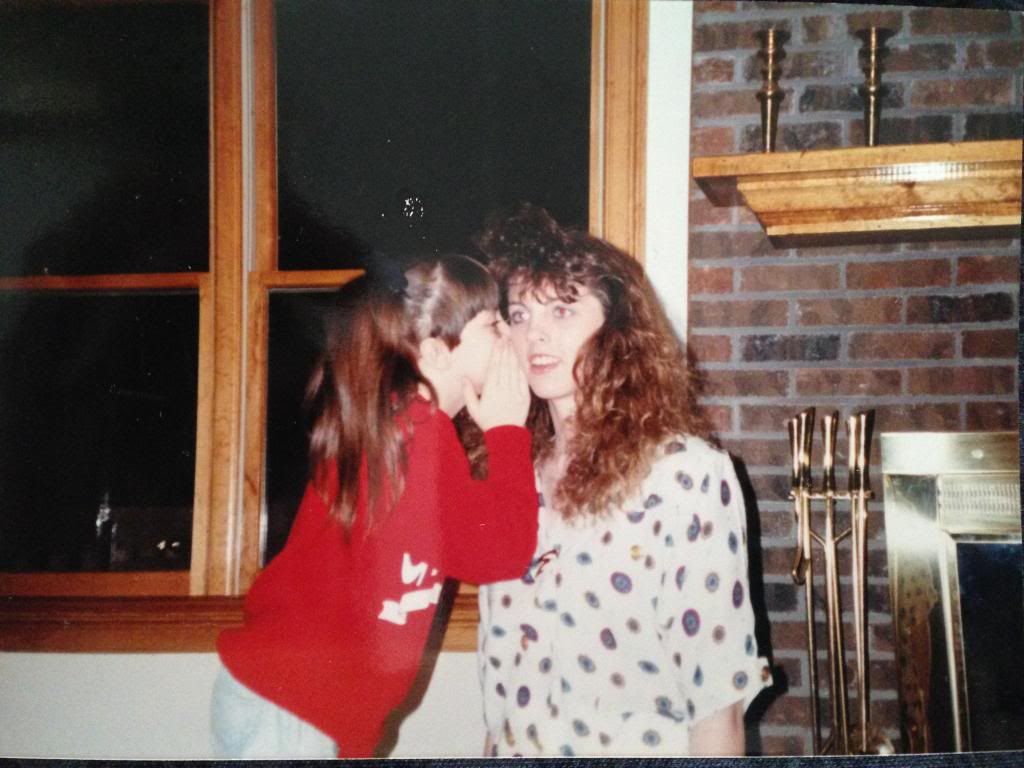 This particular Halloween I was in 4th grade. I was going to some Halloween party probably at my best friend Meredith's house. Meredith's Mom, Mrs. Susan was pinterest before pinterest was pinterest, okay? No doubt Meredith was going to be in some incredible costume, probably something like a mermaid getup straight off of Broadway.
I was prepped, ready and waiting for my costume. I weighed all of 25 pounds and 5 of those were my big head and massive mullet. I had on a black unitard and jazz shoes…prepared for greatness. I was waiting on my mom to get home from work with my costume and she was running late. I remember her coming in the door completely frazzled and I followed her into her room, "MOOOOOMMMMM where is my costume?! We are going to be late!!!!!!! Mom, I've got to get my super amazing costume on!" You know the drill.
I vividly remember the look on her face. The, "oh shit, I totally forgot, there is about to be a meltdown, don't show your weakness, keep it together, think, think, think look"!
I know this look because I've felt it on my own face several times recently while dealing with Camy.
We were standing in her room right in front of her dresser….and with glazed eyes she pulled open her dresser drawer….pulled out a pair of her previously worn panty hose and shoved them over my big fat head.
You can imagine my confusion.
She looked at me and said, "Just tell them you're a bank robber."
And off we went in my mom's big ass brown conversion van. Off to Meredith's house with worn panty hose pulled over my head, a black unitard, and jazz shoes.
This was the beginning of my extended run with horrific Halloween costumes and unfortuantely isn't the worst...by far.
Tomorrow I'll tell you about the costume that made someone say this: "So…what are you? A cat?"
To be followed with the costume that made Mrs. Susan say: "I swear that Lynsey just loves making herself look as ugly as can be!" Also, the same costume that made Meredith cry.